There is general agreement that the UN's Global Goals for Sustainable Development can only be achieved if all areas of society, including governments, NGOs, and the private sector, act together.
Under the framework, businesses have an explicit, central role in 'ending extreme poverty, fighting inequality & injustice, and fixing climate change'. They are being called upon to play their part, but what part should that be?
The Sustainable Development Goals (SDGs or Global Goals) offer a framework against which your business can align, measure, and explain its actions to operate more responsibly and deliver positive social, environmental, and economic impacts.
Across the wide range of corporate partners we work with, three key strategies are emerging:
1. Rally behind a flagship Global Goal
The first strategy is to identify the most appropriate Global Goal for your business and to focus your sustainability efforts on making progress towards this target.
For this approach to be successful you need to select a goal that makes sense for your business. One that aligns to your brand and core values, makes sense to your stakeholders, and reflects the impacts of your products and services.
For example it might make sense for a drinks company to focus on SDG 6 – Clean Water & Sanitation and support a program to provide safe drinking water to communities around the world, whereas a food retailer may want to align with SDG 2 – Zero Hunger relating to food security, nutrition, and sustainable agriculture.
Aligning your sustainability program with a specific Global Goal gives a clear target, purpose, and theme to your CSR activity, making it easier to communicate to staff and stakeholders. It shows that you are aligning your efforts with those of the global community and working in an area identified by the UN as a priority for action, which by extension validates the need for your program.
If you are able to make a measurable difference in your selected area, this approach can help you gain brand awareness, competitive advantage, and secure positive acknowledgement.
Whilst this approach can be a good way to establish focus and motivate your organization, companies adopting it must remain mindful of the wider impacts related to their business operations and have a strategy in place to manage these. Failing to do so could lead to negative impacts that undermine the positive work you deliver against your selected flagship Goal.
2. Using the Global Goals as a framework for action
Focusing on a flagship Global Goal makes most sense for organizations whose core business purpose or products are closely aligned to a particular issue. For others it can be more appropriate to use the whole suite of Global Goals as a framework for sustainability.
There are complex relationships between the goals. For example, you cannot design a program to feed and support a growing population (SDG 2) without considering water (SDG 6) and the environment (SDG 13&15). Across the board, these challenges are interlinked and need to be tackled hand in hand.
By using the Global Goals as a UN endorsed framework for action, you can map the social and environmental impacts of your business and create a plan to cut costs and risks and maximize opportunities to deliver positive impact.
By taking a holistic approach you can prioritize and plan activity that will strengthen your supply chain, build local market awareness and generate positive partnerships with local governments, businesses and influencers – helping you build a sustainable and profitable future for your business, as well as delivering towards the goals themselves.
3. Using the Goals for collaboration
An often overlooked, but important role of the Global Goals, is as a tool to encourage collaboration and shared investment – something that Climate Impact Partners is experienced in facilitating.
All businesses require environmental and social infrastructure to operate and grow.
The Global Goals provide a common language which business can use to engage with each other, investing in partnership programs to provide the shared infrastructure each party requires – for example clean air, reliable energy, efficient transport, education, and health.
The results not only improve life for some of the world's poorest and hardest to reach communities – they can grow your business, build new markets and strengthen shared supply chains – delivering real business value for all parties.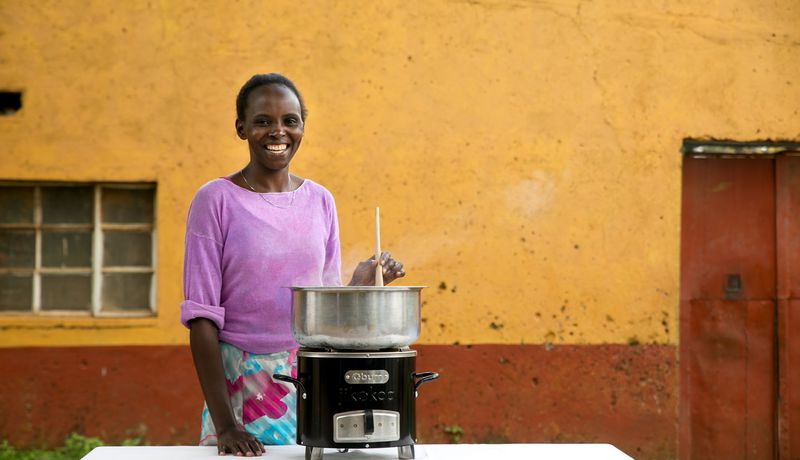 Accelerating progress towards the UN global goals with carbon offsetting
When following best practice, carbon reduction projects can create a wide range of positive impacts for local communities, economies, health, and nature.
Outcomes that were previously thought of as 'co-benefits' have become an integral part of offset project design. This holistic approach ensures that carbon offsetting projects not only contribute to limiting global warming to 1.5⁰C but also moves us closer to achieving the 17 Global Goals.
The Gold Standard calculated that, for each tone of carbon avoided, its projects deliver up to $177 of additional value towards the Sustainable Development Goals.
It has been demonstrated that a clean water project, for example, can deliver $118 of health impacts per ton of carbon; a reforestation project can deliver $177 of biodiversity and employment benefits per tonne; and a cookstove project can deliver $151 of employment, livelihood, and health benefits for every tonne of carbon.
Verification against a global carbon offset standard – such as the Gold Standard or the Verified Carbon Standard – guarantees that for every project, data are rigorously collected, and impacts are accurately monitored and reported.
This enables companies to report the greenhouse gas emissions reductions with complete confidence while highlighting the measurable contribution their organization has made towards global sustainability.
How Climate Impact Partners supports each of the 17 sustainable development goals:
Goal 1: No poverty
Our projects cut carbon and help tackle poverty – saving families money on fuel and health bills, creating jobs, and improving incomes.
Goal 2: Zero hunger
Our projects cut carbon and help provide sustainable food supplies by increasing yields and empowering and educating smallholder farms.
Goal 3: Good health and well-being
Our projects cut carbon and improve health – tackling major killers like indoor air pollution and waterborne disease.
Goal 4: Quality education
Our projects cut carbon and free time and money for education.
Goal 5: Gender equality
Our projects improve life for women and girls. They reduce time spent collecting fuel and water and increase education and employment opportunities.
Goal 6: Clean water and sanitation
Our projects cut carbon and provide safe water improving health and empowering communities.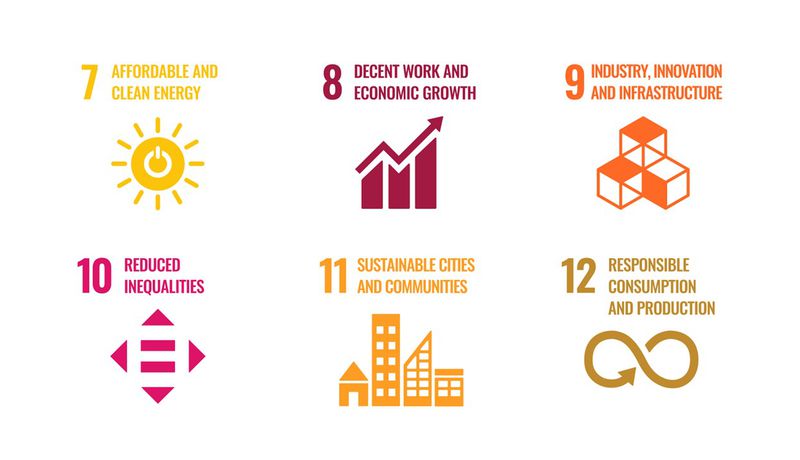 Goal 7: Affordable and clean energy
Our projects provide clean, affordable technologies including solar power and clean cookstoves.
Goal 8: Decent work and economic growth
Our projects create markets for sustainable products, providing jobs and supporting economic growth.
Goal 9: Industry, innovation and infrastructure
Our projects develop local infrastructure and economies, bringing life improving products to communities.
Goal 10: Reduce inequality within and among countries
Our projects cut carbon and create new economic opportunities for some of the hardest to reach communities.
Goal 11: Sustainable cities and communities
Our projects cut carbon and help make communities safer and more resilient.
Goal 12: Responsible consumption and production
We deliver Climate Impact Partners projects within supply chains, strengthening climate resilience, cutting carbon, and improving lives.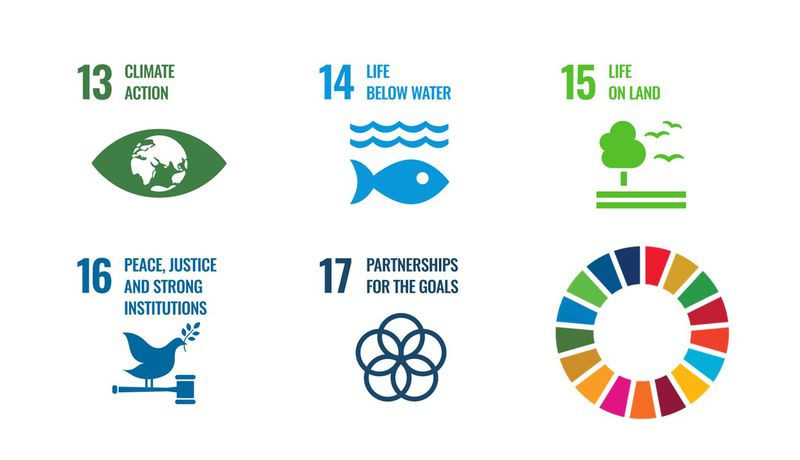 Goal 13: Climate action
We believe that taking action on climate change is at the heart of delivering the Global Goals. Everything we do cuts carbon and improves lives.
Goal 14: Life below water
Our work to tackle climate change cuts CO2reducing acidification of the sea and protecting important species.
Goal 15: Life on land
Our projects cut carbon and protect and restore precious ecosystems. All while creating jobs and developing skills in local communities.

Goal 16: Peace, justice and strong institutions
We work through and strengthen local community, self-help and women's groups, local employers, and savings co-operatives.
Goal 17: Partnerships for the goals
We bring public and private sector partners together to deliver multiple Global Goals through our projects.
It's not just about what the Global Goals can do for your business, but what business can do for the Global Goals
However you use the Global Goals, as a business, one of the first questions you'll ask is how you can deliver positive impacts at the speed and scale required, how you will measure results and how to ensure best value for money.
This takes us from thinking about what value your business can derive from the Sustainable Development Goals, to the value that sustainability can derive from the involvement of business.
At Climate Impact Partners, we believe that achieving the Global Goals means unlocking mainstream private sector investment, alongside aid and public funding. And this requires a market led approach to delivery – understanding the needs of local communities, scaling proven solutions by making sure they are of high quality and affordable and accessible to everyone, developing new inclusive markets that will sustain themselves in the long term, measuring results and using these results to inform and drive future investment decisions.
The Global Goals are an opportunity to rethink how we tackle these global challenges. We need the power of business behind these goals, creating innovative partnerships, driving shared investment, and creating long term sustainable business models that can secure a profitable future for people and the environment.
We look forward to standing with you and using the power of all our businesses, for good.
Get in touch to see how carbon offsetting can help your business support the UN sustainability development goals.
Reach out
46 million lives improved
100+ million tonnes
of emissions have been reduced by Climate Impact Partners