Many corporates are committing to achieve Net Zero status, as evidenced by the new UN Race to Zero campaign. Amidst the rush to publicly declare this intention, there remains debate and discussion about the detail, and what constitutes a robust and practical corporate strategy for achieving net zero.
One of the things that clients often ask us for is a step-by-step guide to taking action. They are working hard to measure their footprint and set reduction targets, and are waiting to get this right before they take action to reduce and compensate for their emissions.
Our advice is to drive actions simultaneously rather than in sequence and then modify and adjust as you learn more. This is because we are up against a deadline to tackle climate change, and there isn't time to take things one step at a time.
The science is very clear on this. We need to more than halve emissions by 2030. That's equivalent to reducing the current emissions of China, India, the EU and the US combined. We need to use every tool available to us to achieve this goal as quickly and effectively as we can.
While setting ambitious net zero targets is to be applauded, it also has to be combined with taking responsibility and action now – remember it is today's emissions that are causing climate change tomorrow. Here are some key actions you should take today:
Understand your current emissions
Companies such as The Carbon Trust can help you understand your current carbon footprint and identify quick wins for reducing it. Using a reputable third party helps provide rigour and independence. However, there are also many tools that can help you self assess and get started in better understanding your carbon footprint. Raising awareness and understanding is the first step in driving change.
Set targets for reduction that are based on science
An emissions reduction target is defined as 'science-based' if it is developed in line with the scale of reductions required to keep global warming below 1.5 from pre-industrial levels. The Science Based Targets initiative (SBTi) can help you set appropriate targets, but this takes time. Don't wait for months to agree the right target, before you take action.
Deliver carbon reductions and efficiencies
Identify quick wins. Put an internal price on carbon to focus minds and drive innovation. Source as much energy from renewable sources as possible. Engage your whole team in making immediate reductions and in developing plans for systematic change to reach your reduction targets.
Develop low carbon products or business models
Low carbon products or business models can help you turn climate change from a risk into a competitive business.
A recent survey by B Lab UK and ReGenerate (PDF) revealed that 72% of the UK population believe business should have a legal responsibility to the planet and people, alongside maximizing profits.
Given this pressure from consumers, if your organization isn't thinking about how to make its products and services climate neutral, customers may not choose your brand. Likewise, you may find it harder to attract new customers, retain existing customers, and attract talent.
Compensate for your current emissions
Take responsibility now and offset your current carbon emissions whilst you put in place plans for reduction. Companies like Climate Impact Partners can help you offset your existing emissions through high-quality carbon reduction (avoidance and removal) projects that not only tackle climate change, but also improve people's lives.
Develop climate projects now, as part of your future strategy
Investing to scale or develop new carbon reduction projects now, can help you plan to manage price and supply of carbon credits to compensate for future emissions.

How carbon neutrality fits with net zero
Going carbon (or climate) neutral is an important component in the journey to net zero. It's something your business can do today. And it's the only way to take full responsibility for your current carbon footprint.
As the diagram below shows, going carbon neutral today compensates for your existing carbon footprint immediately. This status should then be maintained whilst you take steps to reduce your emissions as close to zero as possible, in line with a science-based target.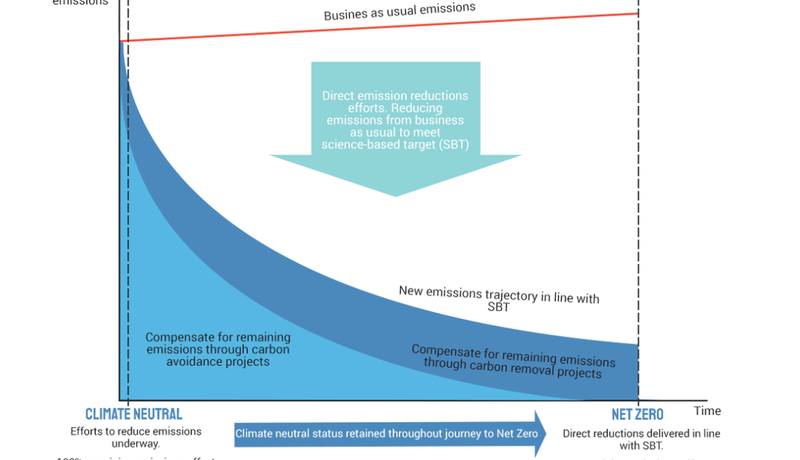 In time the size of your footprint will reduce and the amount you need to compensate for will reduce.
It's widely agreed that your organisation will become net zero at the point it reaches its science-based carbon reduction target, and compensates for all its remaining emissions.
You should work with an accredited ICROA provider to develop a robust strategy to offset your current emissions. This can include supporting existing carbon avoidance and removal projects, developing new projects, and insetting through your supply chain.
Your carbon neutral strategy will help you take immediate action, and set you on course to meet your net zero target.
Building a long-term climate compensation strategy
All IPCC pathways for 1.5° include removing large volumes of carbon from our atmosphere, as well as reducing emissions.
In total, we need to reduce net emissions by over 50% by 2030. In order to do that, Mark Carney's recently launched task force estimates that the voluntary carbon market needs to scale supply, increasing up to 160 times the volume of emissions reductions currently generated.
As a result of increasing demand, supply of carbon credits from both removals and avoidance projects is shortening and FitchRatings predict demand will put pressure on supply by 2025. We think it will be before than time.
At Climate Impact Partners, we are already working with our clients to develop long term strategies that maintain a company's carbon neutral status, whilst at the same time making effective investment to support the growth of carbon reduction (avoidance and removal) projects.
This involves investing now to scale existing projects and to develop new ones – from renewable energy and reforestation to mangrove creation and restoring peatland.
Investing in new project development will help secure your future supply of carbon credits, manage your price risk, demonstrate your commitment to climate action, and provide compelling communications.
It's essential that all carbon reduction projects you support meet the highest international standards to ensure projects are effective.
Climate Impact Partners (recently voted the best project developer in the voluntary carbon market) is a founding member of ICROA and applies the robust methodologies and independent verification processes of the voluntary carbon market to its projects, working with organisations including the Gold Standard and Verra.
It also works with other emerging national standards including the Woodland Carbon Code and Peatland Carbon Code, and is a signatory and supporter of the Together With Nature principles, that set best practice for implementing nature based solutions.
All companies should act immediately to reduce their emissions and go climate neutral – even whilst they work out the detail of their carbon measurement and target setting. They should also invest now in low carbon business and carbon compensation strategies.
And, there is no reason to stop at net zero.
Businesses like Microsoft are already leading the way and voicing carbon negative targets and committing to measure and offset historical emissions. The more that all of us can do to reduce emissions, and the quicker we can remove them from our atmosphere, the better.

72% Percent of the UK population that believe business should have a legal responsibility to the planet and people, alongside maximizing profits.