The Gold Standard approved methodology will increase the provision of clean cooking and catalyse greater scale and impact for emission reductions, whilst improving health and livelihoods.

ClimateCare and Modern Energy Cooking Services (MECS), a five year programme funded by UK Aid, are proud to announce that their new methodology to measure carbon emission reductions from the use of electric and other metered cooking devices has been approved by Gold Standard.
The approval means that projects providing energy-efficient cookers in developing economies can monitor usage and energy consumed more efficiently and accurately using technology rather than expensive and time-consuming surveys.
These projects play a critical role in supporting the low carbon transition globally, while at the same time contributing to health and livelihood improvements for communities.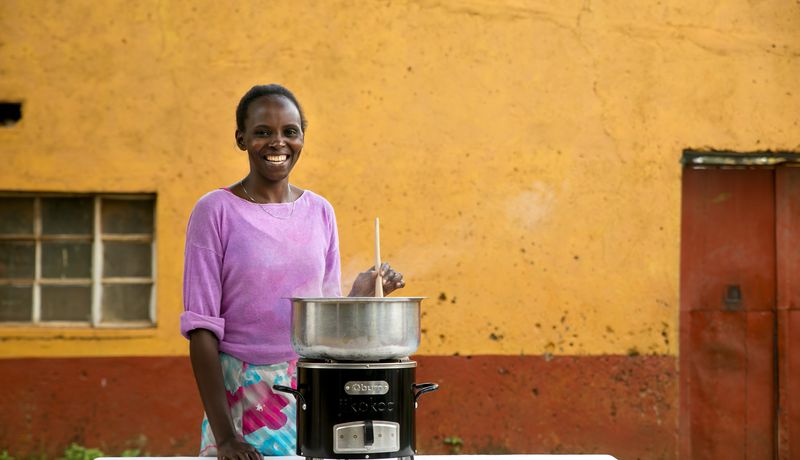 Around the world, an estimated 2.4 billion1 people still rely on firewood and charcoal for cooking. This accounts for 2%2 of global greenhouse gas emissions and one quarter of global black carbon emissions, the second largest contributor to climate change after carbon dioxide.
In addition, up to four million3 people die prematurely every year from illnesses associated with exposure to smoke from pollution, open fires or inefficient stoves. Cleaner, more modern stoves and fuels reduce carbon emissions and lessen the burden of disease associated with indoor air pollution.
The methodology, for which a pilot programme is now being developed, will enable projects that provide communities with clean, energy-efficient cookers to use carbon finance to help fund their work, enabling them to scale and accelerate the transition to modern energy cooking services across the globe.
Tom Owino, Projects Manager at ClimateCare's Nairobi office commented: "We are truly delighted that our methodology, in collaboration with MECS, has been approved. As project developers we are always looking for ways to innovate so that the highest quality projects can deliver increased impact, both on the climate and through other benefits to communities. Carbon finance is critical to enable cookstove projects to scale up and the new methodology for determining greenhouse emission from metered cooking devices will enable us to monitor and measure use and verify results much more efficiently and accurately."
ClimateCare has a long history in driving forward clean cooking. The profit with purpose firm lead-authored the first Gold Standard improved cooking methodology; a methodology that has now been used by many projects and helped deliver more than 18.5 million tonnes of CO2 reductions. It also pioneered some of the first clean cooking projects funded through carbon finance.
Ed Brown, MECS Research Director, commented on recent developments: "This is a really important step towards accelerating an inclusive and just transition to modern energy for cooking. We hope and believe this will help to secure more carbon finance for modern energy cooking companies at lower costs, as well as support their important contributions to the way we tackle the global climate crisis and improve the health of communities around the world. We are now looking forward to taking this to implementation with a pilot project."

MECS
Modern Energy Cooking Services (MECS) is a five-year programme funded by UK Aid (FCDO) which aims to spark a revolution through rapidly accelerating the transition from biomass to clean cooking on a global scale. By integrating modern energy cooking services into the energy planning, MECS looks to leverage investment in renewable energies (particularly regarding electricity access, both grid and off-grid) to address the clean cooking challenge. Modern energy cooking is Tier 5 clean cooking, and therefore MECS also supports new innovations in other relevant cooking fuels such as biogas, LPG (bio) and ethanol. The intended outcome is a market-ready range of innovations (technology and business models) which lead to improved choice of affordable, reliable and sustainable modern energy cooking services for consumers. We seek to have the MECS principles adopted in the SDG 7.1 global tracking framework and hope that participating countries will incorporate modern energy cooking services in energy policies and planning.

34 methodologies supported across 600 projects