As more and more companies address their Scope 2 emissions with renewable energy through Energy Attribute Certificates (EACs), it is important to ensure these purchases deliver the best value for the business. Read on for a summary of our most recent whitepaper, which provides advice to companies sourcing EACs in Europe, North America and the rest of the world.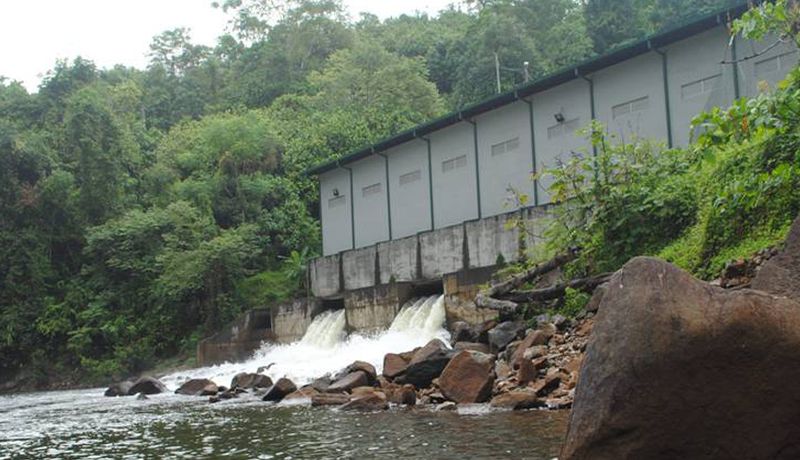 Energy Attribute Certificates (EACs) underpin the >500 million MWh of renewable energy sold globally each year and continue to be favoured by companies with 100% renewable energy goals. Companies can customise their solution by selecting EACs from around the world based on proximity to consumption, technology, age of the power plant, vintage of the electricity, and more. Prices can vary according to these factors, but also according to the time of year purchases are made, which is primarily due to the timing structure set by the main EAC standards.

This whitepaper describes the design aspects of EAC tracking systems that influence corporate buying decisions including Renewable Energy Certificates (RECs) in North America – which are primarily governed by Green-e Energy, Guarantees of Origin (GOs) in Europe, and International RECs (I-RECs) across the rest of the world.
Green-e Energy (certified RECs) – North America: Green-e Energy maintains the Green-e Renewable Energy Standard for Canada and the United States, which is updated regularly. Under the standard, Green-e Energy specifies that a "Green-e Energy certified product may include only renewables that are generated in the calendar year in which the product is sold, the first three months of the following calendar year, or the last six months of the prior calendar year." Green-e Energy requires all marketers maintaining certified products to submit a third-party audited report for the prior Reporting Year (RY) by June 1st in the following Reporting Year[1].
Guarantees of Origin (GOs): Various design aspects of the European Energy Certificate System (EECS) system, which are common to the 20 national members, influence buying decisions, including the GO lifecycle, registry infrastructure for imports and exports, as well as GOs and public funding for renewables. The validity of a GO expires 12 months after issuance. Certificates that have not been cancelled by this deadline are expired automatically, at which point their attributes flow into the grid and are reflected in the residual mix.
I-RECs: For the entirety of the I-REC system, the deadline for issuing I-RECs for the prior calendar year will be May 15th of the current year. This means that renewable electricity production that took place in the 2018 calendar year must be included within an I-REC issuance request before May 15th, 2019.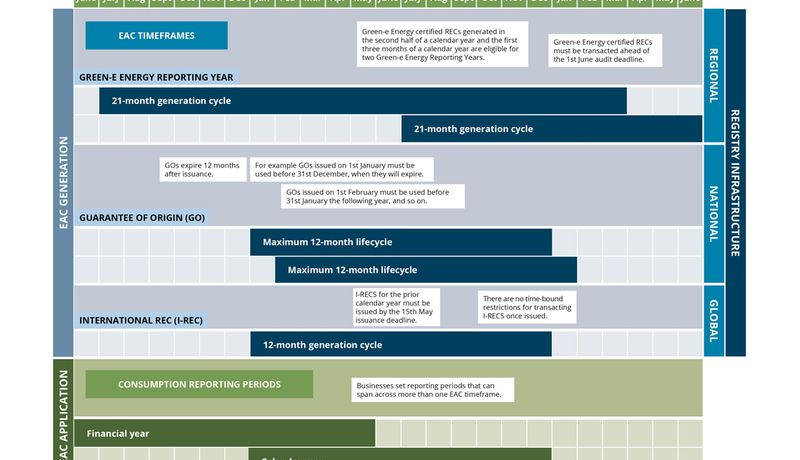 These design aspects of the three main EACs mean that a few simple steps can be taken to deliver a sophisticated global EAC procurement strategy for your business. These steps will ensure your business has the widest possible choice of products and achieves optimal value for money.
Purchase early for optimal pricing: Many companies choose to purchase most of the EACs required to cover their electricity consumption earlier in the year. They then reconcile at the end of the year (also referred to as "truing up"), either by purchasing more EACs or by carrying over EACs into the next year, if applicable, depending on actual consumption.
For optimal purchasing, a business should not wait until the end of a reporting cycle to transact EACs for that reporting period, although many businesses choose to follow this cycle. Businesses often delay transacting EACs until their consumption data has been consolidated by country. For example, a large multinational reporting on a 2018 calendar year may not have consolidated country-level data until March of the following year. The challenge is that by March 2019, EACs generated in 2018 will be in limited supply, which may result in a reduced choice and higher prices.
Therefore, given the timebound limitations that exist within each of the major EAC markets, it is recommended that buyers come to market to buy EACs early in their reporting cycle. Transacting early ensures the best availability of instruments, both in terms of the breadth of projects available and the depth of available volume. Being early to market often results in improved prices and business terms because supply is most abundant at that time. It is better to conservatively estimate consumption and aim to secure a majority of the requirement early in the period when there is the greatest availability of EACs in the market.
Centralisation: There is a trend for renewable energy sourcing responsibilities to be consolidated globally within a corporate function. To ensure consistency and efficiency, centralisation of procurement responsibilities, or having a centrally-defined renewable energy strategy that can be implemented locally, makes sense for most multinational businesses. The nature of EACs makes it possible for a centralised team to source globally, saving time and aggregating requirements into larger transactions that typically result in improved pricing.
Multi-year sourcing: Further efficiencies can be realised by moving from an annual sourcing cycle to a multi-year sourcing cycle, reducing the work involved in sourcing and increasing the volume of each transaction, which may give greater flexibility as well as improved price security.
Developing new renewable energy markets: Outside the more mature markets of Europe and North America, there is a critical role for businesses to play in establishing EAC tracking systems, such as I-REC, within new markets. By bringing their demand and working with market participants, it is possible for a business with significant electricity consumption to kick-start a new EAC market. Climate Impact Partners has set up I-REC issuing renewable energy projects in more than 16 countries to meet client demand, including in Brazil, Israel, and the Philippines.
Market updates: Typically, companies instruct service providers such as Climate Impact Partners to manage their EAC portfolio on their behalf. As demand for renewable energy grows and approaches existing supply, it will push up the price of these attributes. In turn, the incentive to build additional supply grows. This theory underlines all markets and is playing out as the EAC markets in the US and Europe mature. Climate Impact Partners works closely with EAC standards and project developers to stay abreast of market and price changes that affect our clients.

[1] Reporting Year (RY): The year-long period over which sales of Green-e Energy certified RECs are reported to the Center for Resource Solutions (CRS) for verification.