An Innovative Approach to tackling Global Water problems
WWF (WWF Living Planet Report, 2013) reports that demand for water is likely to rise by 25% by 2025 but is already beyond sustainable use levels in many areas of the world, leading to depletion of both ground and surface water resources. Climate change will further exacerbate the problem and by 2025 up to two thirds of the world's people are likely to live in water-stressed conditions. The World Water Council and Global Water Partnership estimate that annual investment in water projects, especially in water scarce areas, needs to double to $180 billion dollars. Providing investment, however, is not enough. Many water projects lack any long-term monitoring, leading to a mismanagement of resources that can lead to a lack of long-term positive impact. For example, the premature failure of 30% of the 800,000 hand-pumps installed in Sub-Saharan Africa during the last 20 years points to the requirement to monitor and manage projects to clear objectives.
Management, as much as investment, is a crucial issue. To tackle this problem, the Gold Standard has launched a Water Benefits Standard that will help to bring investment and long-term resource management to critically important water projects, ensuring that they are successful over the long term. The mechanism aims at providing incentives for financing water projects globally through the quantification of the project's water benefits and their sale in the form of the Water Benefit Certificates (WBC). Projects are carefully monitored, and their resulting benefits accurately quantified over the project life. The WBCs are issued on a registry platform following an audit by an independent third-party auditor, the same way as carbon credits are issued, and allowing them to be delivered and sold to investors and businesses. The program draws upon the established principle of results-based finance, which is proven through a decade of successfully financing carbon offset projects under both UN-defined and voluntary standards. This certificate-based model facilitates company engagement in water stewardship while also enabling projects to continue operating efficiently over time.
The overall aim is to create a credible and transparent market for companies to involve themselves in water stewardship with public recognition and acceptance.

The certification cycle of WBC projects principally follows the Gold Standard for greenhouse gas emission reduction projects, and the Water Benefit Standard financing mechanism has been developed to account for socio-economic impacts in addition to water-related impacts. Each WBC project certifies the volume of water that has been saved, purified, or supplied by a specific project activity and that the project activity meets the sustainability criteria required by the WBC Standard. Credits are issued corresponding to the volume of clean freshwater supplied, purified, or conserved by the project activity during a specific period of time, with each credit certifying 1m3, 10m3 or 100m3 of water benefits, depending on the project size. With common sustainability criteria, businesses can select scalable projects that support their supply chain requirements, link to other corporate responsibility programs, and align with the locations of their customers.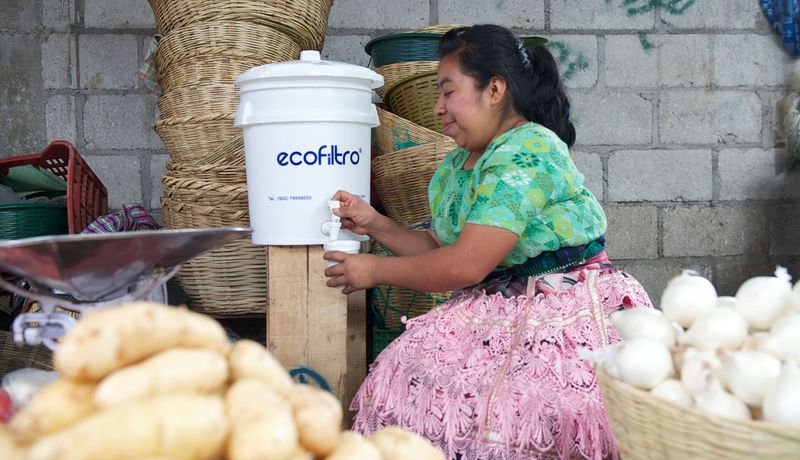 The Water Benefit Standard is currently in its pilot phase. During this phase, the rules are being developed and tested on a few projects representing a variety of water resource management practices. Two of the first projects are a safe drinking water solution in India which builds water purification stations to replace local wells and other water supplies where the water quality is not assured, and water access, sanitation, and hygiene (WASH) project in Uganda which works with local water service entrepreneurs to establish and maintain improved water sources and promote hygiene to local communities.
The Standard is now entering a phase of public consultation through to the beginning of January 2015. To find out more about how to support a Water Benefit project, read our previous blog on corporate approaches to water stewardship.
100+ million tonnes of emissions have been reduced by Climate Impact Partners